The Honda Accord is the midsize sedan that's been setting standards for decades
If there's a "Best-Of" list ranking midsize cars, family cars, or sedans of any type, there's a good chance that the Honda Accord is, or had been, on it. More than once.
The Honda Accord used to be a fairly unassuming, basic car that seated five, had decent handling, and could  fly under the radar easily--which was fine for many years and competed stubbornly against other similar sedans. This popular nameplate has sold over seventeen million cars since its introduction in 1976, and its formula worked. Everyone from working moms to fresh-faced college graduates to big-city businessmen found comfort and enjoyment in the satisfying Honda Accord.

2018 Car and Driver's America's Best Sedan*
*Packed with advanced technology, Honda Sensing® standard, a spacious premium interior and a turbocharged engine, the Accord has raised the bar for the segment yet again, earning Car and Driver's America's Best Sedan award. Award applies only to non-hybrid models. Car and Driver, November 2017.
But when the classic family car began to look fresher, offer more, drive faster, and demand the ability to double as a performance vehicle, Honda took note. Midsize sedans are getting bigger, and driver needs are getting more complicated. With a huge redesign for the 2018 model-year, this midsize sedan is packing a punch that you can't deny.
The history of Honda's famous family sedan
Did you know that the first Honda Accord was actually sold as a compact car? It's true. But, in 1976, anything smaller than a boat-sized wagon or a wood-paneled minivan probably did seem pretty small. As the market grew, so did cars, and so did the Honda Accord lineup. The 2018 Honda Accord offers four-door sedan and eco-friendly hybrid styles, but it used to be a much more widely-used nameplate across the Honda collection.
The Honda Accord has been seen as a wagon--inspired by the sedan, with a body that extended far back over the rear wheels and hunched up a hatch to create serious storage space, with the classic looks of a Honda. It gave more flexibility and versatility than a sedan, but wasn't as large or hard to drive as a SUV. Sadly, this wagon went the way of most other wagons on the market after just a few years. But the idea of an "XL Accord" didn't die there, and the Honda Accord actually laid some of the groundwork for the Honda Crosstour, a small crossover that was popular with urbanities and small families. In the direct opposite direction, the Honda Accord sedan also inspired the sporty, cut-down figure of the Honda Accord coupe, which was seen as recently as 2017.
The DNA of the Honda Accord has given life to a much wider variety of new Honda vehicles than you might imagine. But with its wild success, steady popularity, and rugged reliability, it's not all that hard to believe.
What's new for 2018?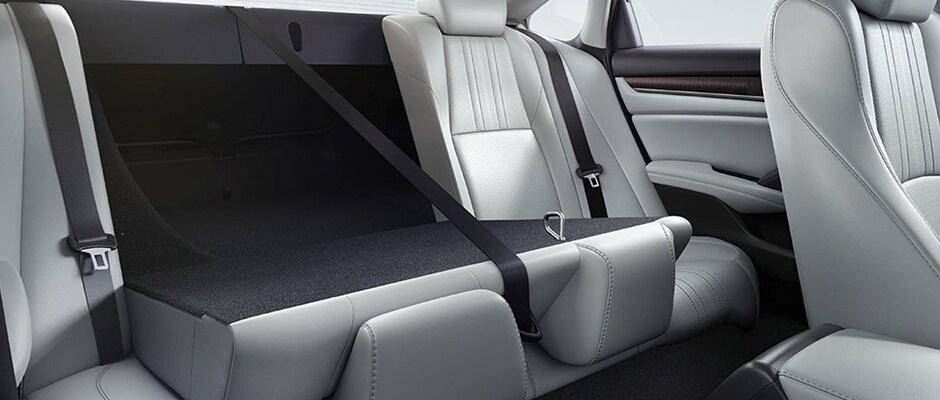 Basically everything. The 2018 Honda Accord keeps its name, a few specs, and some basic sheet metal. Other than that, Honda went after the design with the purpose and precision of a surgeon. The newest generation of four-door family cars brings new powertrains (including three new engines), a new model lineup, a newly-updated infotainment system, new standard safety systems and technology, and a very new exterior look.
Even the 2018 Honda Accord trim level and configuration lineup is different:
2018 Honda Accord Sedan model trims: LX, Sport, EX, EX-L, Touring
2018 Honda Accord Hybrid Sedan model trims: Hybrid, EX-L, Touring
Yes, sadly--the Honda Accord coupe has been discontinued for the 2018 model-year. This isn't particularly surprising, as the coupe market has leaned heavily toward compact cars and sports cars, and away from midsize two-doors. If you're dying for a Honda Accord, though, the 2017 model still offers the chic and sleek look for you.
The front fascia and hood have been modeled subtly after the great American muscle car, and the 2018 Honda Accord pulls it off well. The downturned nose may be a less-than-subtle representation of this competitive car's view of its rivals, perhaps? Regardless, the sloped front end, chrome bar, and fierce new face look great when combined with the surprisingly modest and mature look of the rest of the body. The new 2018 Honda Accord has not followed in the footsteps of its smaller sibling, the Civic, in brash exterior styling, and we can appreciate that. It's shorter and lower, but slightly wider that its previous generation, giving the new model a solid, stable image.
Interior features and luxury comforts
Here's something you'll love if you frequently find yourself missing out on shotgun, or hearing the griping of your back-seat driver: the new 2018 Honda Accord has increased legroom for rear-seat passengers by nearly two inches over the previous year's model. While two inches may not sound like all that much, it does make a big difference for the legs of your passengers on long trips--and for your own sanity.
The base 2018 Honda Accord LX has a relatively short list of standard features, but those features are a lot more impressive than you might think. Even this entry-level model includes standard dual-zone auto climate control, standard multi-angle rearview camera, standard 7-inch LCD screen, and standard Honda Sensing. Upgrade to Sport and higher models for standard Apple CarPlay/Android Auto integration, power and heated seats, power moonroof, a larger touchscreen display, and niceties like leather and premium audio.
This midsize sedan can get pricey quickly when equipped with available package options and when building up through the trim levels. But, when you know that your sedan is going to last you a good long while, why not spend a little more and get the finer things in life?
Upgraded tech and infotainment system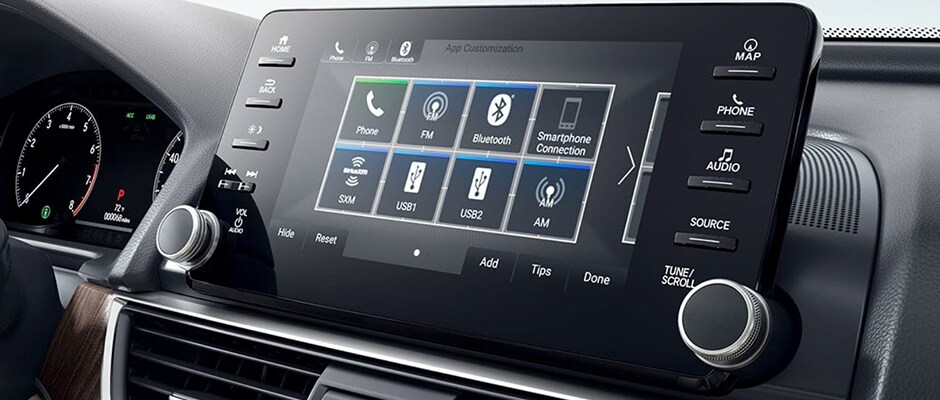 One of the biggest (and only) complaints of previous Honda Accord models came from difficulty of use with the infotainment system. Honda flew a little too close to the sun with a high-tech interface that tried to go full-touch and move away from buttons. Not a great move--people love buttons. The new system includes physical knobs for tuning and for volume, and Honda has even given us buttons for the menu, so you can tap or poke to your unique preference. It's also more responsive, looks better, and is easier to use on either-size screen.
Also in tech: the 2018 Honda Accord upgraded its trim levels to offer Honda Sensing safety and driver-assistance features as standard: Collision Mitigation Braking System, Road Departure Mitigation System, Adaptive Cruise Control with Low-Speed Follow, Lane Keeping Assist System, and Traffic Sign Recognition.
Performance and engine options
There is some bad news about updates to the 2018 Honda Accord, but the pain is quickly soothed. The i-VTEC V-6 engine that was found in last year's car is gone from the lineup--but replaced with an equivalent powertrain option that critics are actually preferring to the outgoing six. While the V6 has disappeared, the new generation can be equipped with an invigorating turbocharged 2.0-liter four-cylinder engine, which is good for 252 horsepower and 274 pound-feet of torque. This is a small step down in horsepower from the previous engine, which made 278 horsepower, but it makes up for this small dip in performance and acceleration.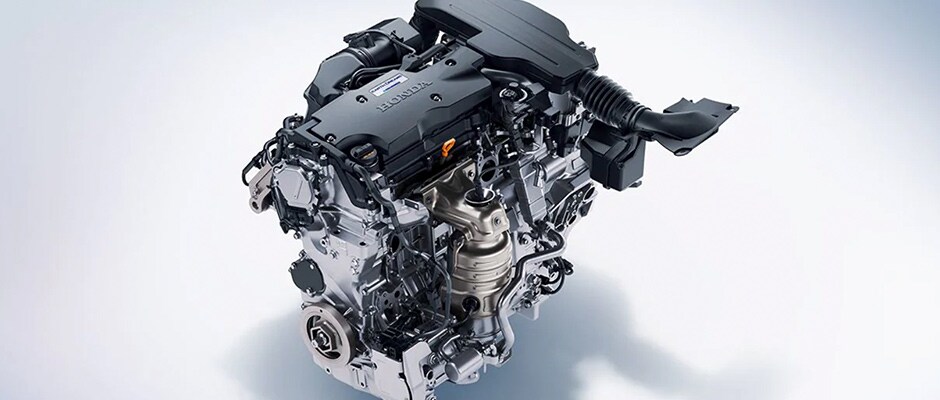 Honda's turbocharged 1.5-liter four-cylinder engine comes standard on all models, paired to the brand's smooth CVT, and offers a peppy 192 horsepower and 192 pound-feet of torque.
Just buy it.
Unless "Honda" is on your "cons" list, there's no reason not to buy the new 2018 Honda Accord if you're shopping for a practical, fun, comfortable midsize sedan that comes loaded with options and actually looks good. The redesign has gotten rid of the few, thin complaints that critics may have had with the Honda Accord of past years, and what's left is simply... amazing.
See for yourself why the Honda Accord has been setting sales records for decades.