The 2018 Honda Civic makes functionality fun again, and keeps its crown as a top compact car
You may have heard that the Toyota Corolla is the best-selling car in the world, besting the Honda Civic in total global sales; there's a very good reason for that, but it might not be the reason that you think. It has less to do with quality, with price, with value, with equipment, or even with financing processes and incentives. It has a lot more to do with corporate fleets. Honda doesn't have a fleet department, unlike the vast majority of other automakers. That means that thousands of Corollas are landing on rental lots, in company car lineups--to be used and abused by no shortage of short-term drivers. Meanwhile, Civic compact cars are landing in driveways.

[1]
A smart and dependable balance of quality, performance, practicality, and (newly) good looks make the new 2018 Honda Civic a solid pick for just about anyone. It's more spacious than a typical compact, but still offers a small footprint for easy driving in tight spots. It's loaded up with new tech that, while boosting the purchase price higher than some of its competitors, makes it a well-connected option. And, with over a dozen available body style and trim level combinations, the new 2018 Honda Civic is one of the most versatile yet.
[1] For more information, visit Kelley Blue Book's KBB.com. Kelley Blue Book is a registered trademark of Kelley Blue Book Co., Inc.
10th gen styling
The Honda Civic has come a long way since its first boxy offering in 1973--it was squashed, stocky, and bare-bones, with small, round headlights and a steep hatch back. That first model couldn't be more different than the latest Honda Civic, and there are few in the industry who wouldn't argue that the new styling of the tenth-generation Civic (introduced first in 2016) is a huge improvement over the previous one.
The new generation is built with cleaner, sleeker lines that emphasize every curve and dip in the new body of the 2018 Honda Civic. The headlights and thin and pulled tautly across the face of Honda's most famous compact car, and whether you choose the two-door, four-door, or five-door Civic option, you'll find yourself in a surprisingly stylish option among a class that's usually best known for demure personalities and modest designs.
Exterior color options for the new 2018 Honda Civic lineup include White Orchid Pearl, Rallye Red, Lunar Silver Metallic, Crystal Black Pearl, Aegean Blue Metallic, Polished Metal Metallic (hatchback only), Sonic Gray Pearl (hatchback only), Modern Steel Metallic (sedan + coupe only), Burgundy Night Pearl (sedan only), Cosmic Blue Metallic (sedan only), and Energy Green Pearl (coupe--and confident personalities--only).
Honda Civic sedan
The classic: this sedan pulls a few styling elements from its coupe brother; the rear of the vehicle slopes sharply at the C-pillar back down to the trunk, creating the same type of aerodynamic flow and sporty line that you'd find in a conventional two-door, without compromising significantly on rear headroom and comfort. The sedan can be equipped with many of the same features as the coupe and the hatchback, and doesn't carry many exclusives, so a main reason to buy the sedan is price (the 2018 Honda Civic sedan has the cheapest starting MSRP of the lot) and a fondness for this particular body style.
Available trim levels include the Honda Civic LX, EX, EX-T, EX-L, Touring, and Civic Si Sedan.
Honda Civic coupe
This sporty four-seater coupe isn't new to the lineup, but the attitude sure is. The older-generation Honda Civic coupe was a decent enough daily driver, but didn't give you much to write home about. The newest 2018 Honda Civic, however, got some schooling in the ways of sheetmetal, and it genuinely cuts a fine figure on just about any road. A driving force behind the coupe's sales is a few exclusive colors (a blinding neon green), a sportier feel when you throw in the new turbocharged engine, and the sliced look of a coupe.
Available trim levels include the Honda Civic LX, LX-P, EX-T, EX-L, Touring, and Civic Si Coupe.
Honda Civic hatchback
The hatchback body style is new for 2018, and increases the total availability of Civic model in the US by a third. Fans have been calling for a five-door Civic for years, to compete against Subaru's popular Impreza hatchback, and the compact hatchbacks offered by other top rivals like Ford. The new 2018 Honda Civic hatchback is styled very similarly to its sedan cousin, offering the same pinched lines toward the rear--but with some muscular additions like a dual exhaust and a unique front fascia. This a newly-popular option thanks to a large cargo space--with seats folded, you'll get more than 46 cubic feet of storage area in the 2018 Honda Civic hatchback.
Available trim levels include the Honda Civic LX, Sport, EX, EX-L Navi, Sport Touring, and Civic Type R Hatchback.
Updated tech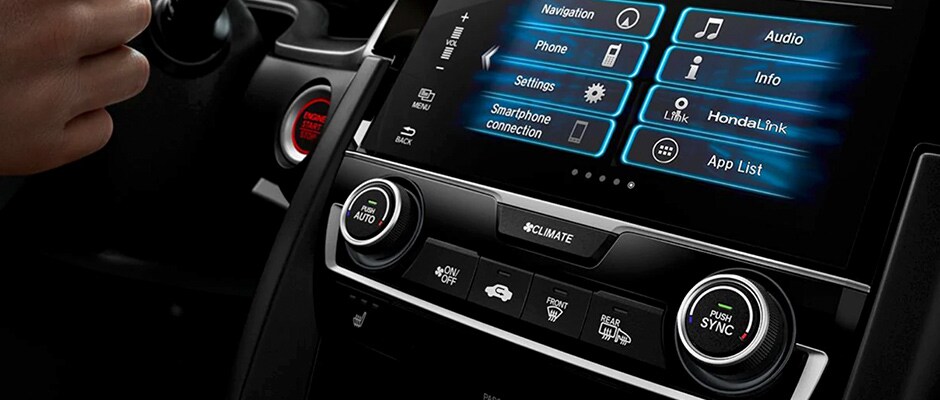 Honda knew that, to stay competitive, it had to give the kids what they want. It's why, along with the sharp new style, the tenth-generation Honda Civic threw itself full into the tech game for compact cars. The 2018 Honda Civic offers support for Apple CarPlay through iPhones and Android Auto through Android and Google phones, used through an intuitive and attractively-designed touchscreen system--these are available as early as the 2018 Civic EX. Steering-wheel-mounted controls come standard on entry-level LX models, as do automatic headlights, full power controls, cruise control, and Honda's Multi-Angle Rearview Camera.
Honda Sensing safety features (we'll get into that later) can be equipped even on the base LX and EX models, but comes as part of a pricey package. For the money, you may as well upgrade.
Higher trim levels for the sedan, the coupe, and the hatchback start pouring in new tech features--like remote engine start, smartphone connectivity, a power moonroof, Navigation, a premium sound system to fill the long hours on your weekly commute, and (on the sporty hatchback) Dynamic Gauges on the available Driver Information Interface. Honda LaneWatch uses discrete side cameras to display a live feed of your blind spot whenever you signal a turn to the left or right--Honda claims this feature boosts rear-side visibility to nearly four times the level of just looking at the mirror.
Interior features for all-day comfort
The interior of the new 2018 Civic is one of the best in the business, and it doesn't seem like Honda skimped on a thing. It explains the somewhat steep starting price of the coupe and the hatchback, but the myriad small details really add up and make this smart new cabin well worth the cost. It was designed to deliver an ergonomic, catered feeling. Honda has been heavily invested in storage pockets, nooks, crannies, and convenient spaces in its newest lineup of vehicles, and the Civic didn't miss out on the treatment. Even the center console storage area had been redesigned for the new tenth-generation design--the cup holders are adjustable, and a clever movable container top lets you customize the space for ideal storage of snacks or bottles, wallets and cell phones, even valuables that need to be kept away from the naked eye of passersby.
For comfort on any commute, errand run, or joy ride, the new 2018 Honda Civic can be equipped with heated front seats for driver and passenger, as well as heated outboard rear seats. Premium leather detailing and accent pieces can be found throughout in the cabin in higher trim levels--and if you're ready to shell out for it, the 2018 Honda Civic can really look the luxury car that it's mimicking.
Interior options across the lineup include gray/ivory/black fabric, and grey/ivory/black leather upholstery for the sedan, both cloth and leather upholstery in black/gray and black/ivory for the coupe, and black/ivory fabric and black/ivory leather for the hatchback.
More performance options to choose from
Between the three body styles and multitude of trim levels, the 2018 Honda Civic offers a wide variety of performance options that feel great to drive across configurations. The standard on sedan and coupe models is a 2.0-liter four-cylinder engine rated at 158 horsepower and 138 pound-feet of torque; not the highest in its class, but practical and still worthy of the occasional blast down an open highway stretch.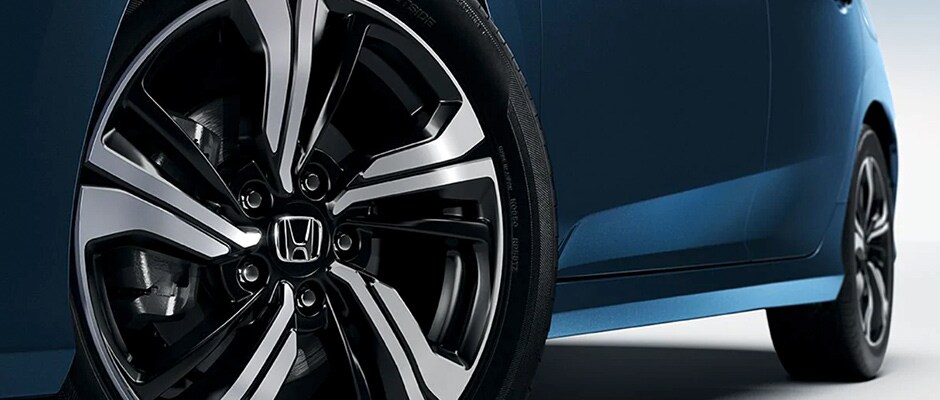 The really exciting option for the tenth-generation model, though, is a 1.5-liter turbocharged four-cylinder engine that can be found across multiple styles; it's standard on the 2018 Honda Civic hatchback and boasts 174 horsepower and 167 pound-feet of torque; upgrade to the hatchback Sport for tuning up to 180 horsepower, or to the 2018 Civic Si sedan or coupe for up to 205 horsepower. On the Type R exclusively for 2018, Honda equipped a 2.0-liter turbocharged engine good for an impressive 306 horsepower and 295 pound-feet of torque--making this the most powerful Civic model ever, and one that is understandably hard to find on a dealer's lot.
Here are the power options as they appear on select body styles:
2018 sedan: 2.0-liter 4-cyl; 1.5-liter turbo 4-cyl
2018 coupe: 2.0-liter 4-cyl; 1.5-liter turbo 4-cyl
2018 hatchback: 1.5-liter turbo 4-cyl
Safety
Now, let's reel back the excitement: the new 2018 Civic may be sharper, smarter, sleeker, and have a lot more options that its previous generation--but it is still a Honda. So you can bet that you'll find safety features, security measures, and driver-assistance systems for every corner of your car.
Honda Sensing is available on every single trim level of the 2018 Honda Civic sedan, coupe, and hatchback--but is standard only on Touring/Sport Touring trim levels, meaning that you'll need to opt for an additional package if you want those features on an LX, LX-P, Sport, EX, EX-T, EX-L, or EX-L Navi. The Honda Sending suite offers classics like Lane Keeping Assist and Adaptive Cruise Control, and adds heavy-duty safe-keepers like Collision Mitigation Braking and Road Departure Mitigation. Stack that suite on top of a standard rearview camera, readily-available Honda LaneWatch, and a solid design made for long-term durability, and you can see why the hot new 2018 Honda Civic is as popular with families as it is with teenagers, artists, tech nerds, and just about everyone else.
Fin.
What else do you need to say about the 2018 Honda Civic? It's the Civic, better than we've ever seen it.
---
[1] For more information, visit Kelley Blue Book's KBB.com. Kelley Blue Book is a registered trademark of Kelley Blue Book Co., Inc.