Defining the Family SUV Class: The Honda Pilot
"Family SUV" might be a new category to many of you reading this, but it is one that has been years in the making. Minivans are functional, but that's it, they aren't really fun to drive, don't have interesting designs, and just - generally - leave customers wanting more from their vehicle: enter the Family SUVs. With all of the capabilities of bland minivans, but the styling of something you want to show off, Family SUVs are a glimpse of a future void of minivans, and the Honda Pilot is the model we want to be brought there in. 
Room For Your Family: Plus Some
The Honda Pilot makes sure you will have enough room for all of your passengers - whether that means family members, friends, coworkers, or pets is up to you. With three rows of seating that can fit up to eight passengers, you will rarely have to worry about taking a second vehicle again. These aren't the cramped seats that other models provide, with one of the largest passenger volumes in its class, there are no bad seats.
Most trims come with your standard two front seats and benches in the second and third row, but, if you are looking for top-of-the-line features, you can opt for Captain's Chairs in the second row on the Elite model (making it a seven-passenger model).  If you can sacrifice that one seat, this might be better if you are looking to drive adults or teenagers more than you are expecting to drive smaller children. 
Got Cargo?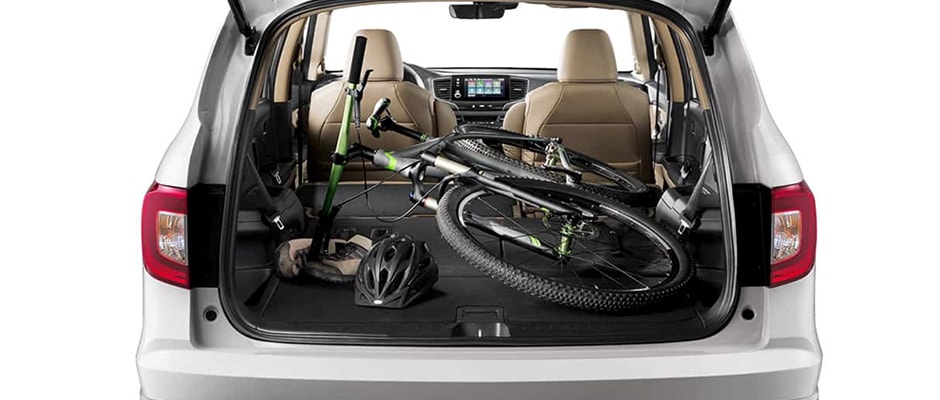 Passengers aren't the only thing that the Honda Pilot is equipped to bring along, but all of your gear too. Before looking at one of the dreaded minivans, know that the Honda Pilot is one of the largest options before needing to go that route. With all of the seats up you are still looking at 16.5 cubic feet of cargo space, with the rear bench down you are getting 47 cubic feet, and with both benches down you are looking at 83.9 cubic feet. While this leaves you with all of the room that you might need for big gear, there are all kinds of little pockets and indents that you can put all of the smaller items you want easily available to travel with. 
Power and All-Wheel Drive
The team over at Honda didn't spend all of their time paying attention to the interior, the engine provides all of the power that you could need from a 3.5-liter i-VTEC V-6. 258 horsepower and 262 pound-feet of torque is enough to pull along all of your passengers and the gear that they are bringing along. The reliable six-speed automatic transmission comes standard on LX, EX, and EX-L models, while the Touring and Elite come with a nine-speed automatic. You won't be seeing the traditional shifter on the upscale models, you will be getting a push/pull/toggle button system to put you into drive or park. You'll need to see it to fully understand, but it does the same job with a sleeker design. 
The Honda Pilot comes with an available Intelligent Variable Torque Management All-Wheel Drive System, which is a mouthful, but what matters is that it works very well. It constantly monitors road conditions and traction to send the power where it needs to be; power is sent to the front wheels to keep your drive as efficient as possible, and sent to the rear when you are looking for a little more traction in some harsh situations. 
Tech and Safety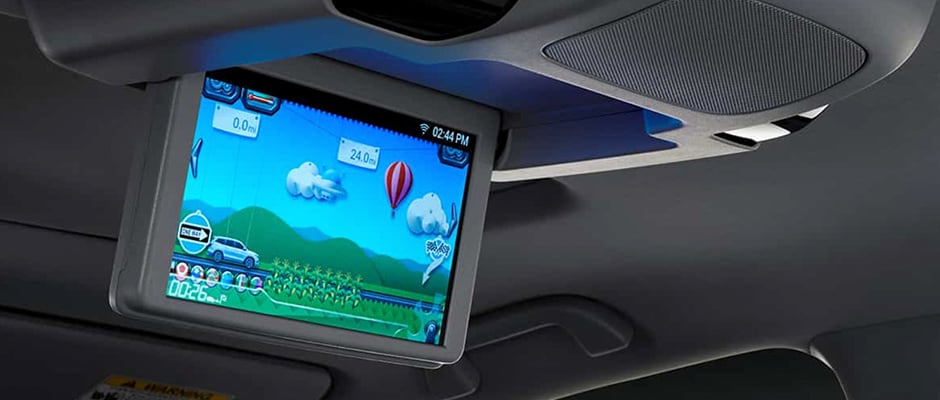 You won't be losing any of the technology that you might have gotten used to in a minivan. We know, change can be scary, but when you want the latest-and-greatest technology, this family SUV provides it. The base trims come with a 5-inch display that uses buttons and toggles, but when you upgrade some options, you are getting Apple CarPlay and Android Auto, giving you the best connection to your smartphone. This system pretty much mimics your smartphone for the easiest use, and can stream phone calls, music, and media, as well as text messages and maps to make sure you never have to be looking down at your phone which would compromise your safety. Upgrading also brings you an eight-inch touchscreen with HondaLink, and the Touring and Elite models bring an advanced navigation system and entertainment in the form of Blu-Ray and DVD players for those in the rear seats. Technology isn't only for entertainment though, it also brings some of the most impressive safety features. 
Honda Sensing is available on all trims over the EX, bringing you radars and sensors to keep everyone in and around your vehicle as safe as possible. Features like Lane Departure Warning, Collision Mitigation Braking System, Road Departure Mitigation System, and available features include Adaptive Cruise Control, Automatic High Beams, Blind Spot Monitor, Front and Rear Parking Sensors, and a Rearview Camera to keep you where you are supposed to be on the road - a safe distance from other vehicles and pedestrians.  
Replacing the Minivan? We Think So.
When you want to have a vehicle that you don't mind showing off, we recommend moving to a Family SUV rather than a minivan. The Honda Pilot offers all of the same features - plus some-while providing a sleeker design. The stigma of a minivan has been ingrained for decades and will not be going anywhere soon, but the Family SUV is just starting its story, make sure you are a part of it.